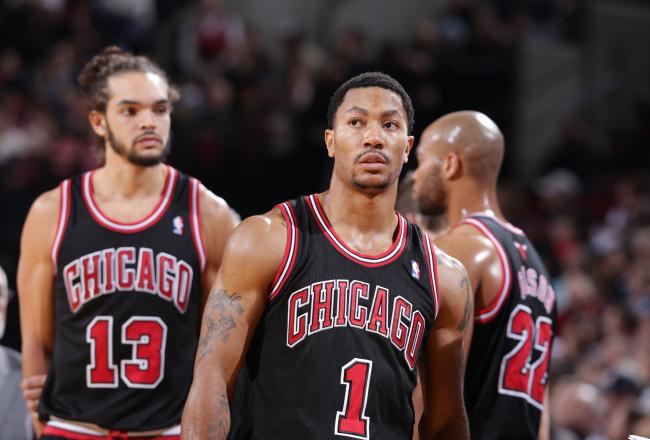 Is Derrick Rose really the future of the Bulls? Two season ending injuries in two years isn't a good sign for the top draft pick of 2008. A highly critical article from CBS Chicago by Dan Bernstein has it that Derrick Rose is upset with the team rebuilding in his absence and is suddenly a self-centered arrogant player. His performance in the 2013-14 season was just starting to improve from his disappointing start until he came down again. Now the Bulls are suffering, even with additions like DJ Augustin to replace Derrick Rose and are struggling to stay in the playoff picture. Derrick Rose will be back but it's now a question of will he be better than ever as he claims, or will his career go downhill along the path of the "could've been greats" like Jermaine O'Neal, T-Mac, Baron Davis, Yao Ming and the entire list of players whose careers were ruined by injuries. If so, now what?
There is no doubt that Derrick's style of play is going to have to change in to a sharp jump shooter if he comes back as a role player. Also, in order for the Bulls to go uphill in any way, somebody else has to emerge as a star or the chosen one must be acquired. This might be Carmelo Anthony the sharp shooting superstar from New York. In any worse case the Bulls get Nikola Mirotic, the Spanish prospect from the Euroleague, where he shoots a stunning 59.4% from beyond the arch, plus an amazing 72% field goal percentage! The Chicago Bulls's future could go in two directions, positive or negative, and as for now, we wait for #thereturn
II .
How do you think Derrick Rose's career will go from now and the Bulls' as well? Comment below.